We Pack & Ship Wine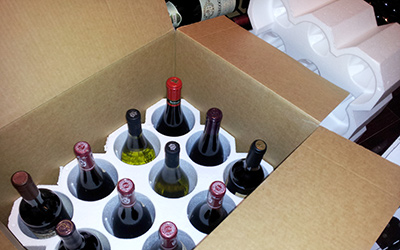 Celebrate the occasion! Whether it's a birthday, holiday or just to say "thanks", you can now share your favorite wine variety with your friends and family. And, we will pack and ship it safely.
Coastal Postal ships wine and champagne to 46 states in the USA (Massachusetts, New Hampshire, Utah and North Dakota are currently unavailable). Wine is a regulated item and needs special authorization and handling. Beer and hard liquor are still on the "can't ship" list. We don't expect that to change anytime soon but we promise to keep you informed. Be sure to stop in the store or look for news on our Blog, Facebook page, and Twitter.
We stock special foam wine shipping boxes for up to 12 bottle shipments, and we can safely pack any size shipment of wine. Our shipping options are Ground, 2nd Day or Overnight. In all cases, an Adult Signature and the recipient's phone number and email address are required to ensure that someone is there to sign for the shipment.
Cheers!